The German Occupation of Guernsey - Visitor Guide - April & May 2018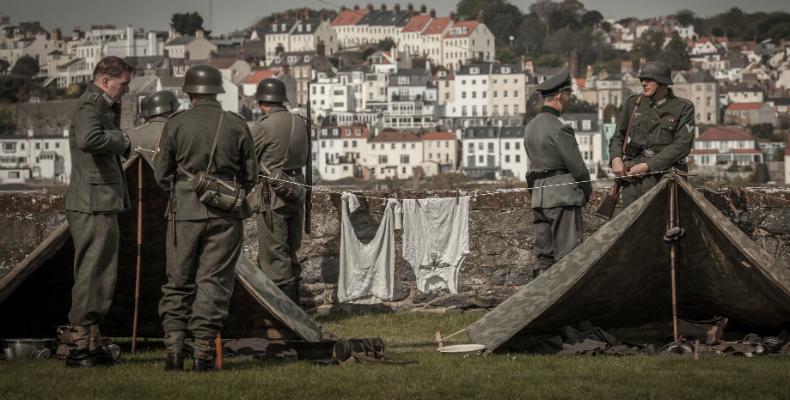 The German occupation of Guernsey in World War 2 had catastrophic impact upon the islanders, still felt keenly today. The Guernsey Heritage Festival chooses this significant period of Guernsey history for its focus in 2018.  The Festival will host many events, talks, tours and exhibitions between 30 March and culminating in Liberation Day on 9th May.  Below we suggest a schedule of events to help visitors plan their holiday.  Do as much or as little as you like!
A week in Guernsey exploring it's German occupation history
Saturday :

 

 

Welcome and Explore!  [St Martins]

Arrive at the Ellingham Cottages and get your bearings.  Set off to do a reconnaissance of the local area.  Maintain energy levels with a stop at The Captains Inn on the return leg!

Sunday :

 

Various recommendations

01 April:  RAF Day at Castle Cornet (or 'Hafenschloss' as it was known between 1940 & 1945). 

08 April:  'Secrets of Mirus Gun Battery' guided tour, starting at 10am at Le Houguette School; or 'Our Dear Channel Islands' History Fest, on at Castle Cornet all day.

15 April:  German Naval Signals Headquarters @ St Jacques (next to Collinette Hotel). 12:30 - 16:30

22 April:  'WW2 History of Jerbourg Peninsula' guided walk starts at 9:30am opposite Jerbourg Hotel. 'Hitler's Island Madness' guided walk around three major gun batteries, starts at 2pm at le Houguette School.

29 April:  German Naval Signals Headquarters @ St Jacques. 12:30 - 16:30

06 May:  Enjoy an Occupation-themed day in St Peter Port, with a mini-food festival on the piers, a visit to the exhibits in the Information Centre and finish with a trip to the Ship & Crown pub for an 'Evacuation Special'.

Monday :

 

 

Day Trip to Herm or Sark

A trip to the Bailiwick is not complete without taking the short ferry ride to either Herm and Sark. Highly recommended.

Tuesday :


 

 

Military Museum and Guided Walk [St Peter Port/ St Martins]

Visit the Military Museum to see items from both WW1 and WW2. The museum is set in a complex of tunnels that were built during the German Occupation as a fuel storage facility for German U-Boats.  Later, head to Icart for 2pm for a guided coastal cliff walk entitled "Enemy at The Door", to include various resistance nests.  

Wednesday:

 

 

West Coast and Castle Cornet

In the morning, hop on a bus to take the circular bus route around the coast of Guernsey.  Jump off on the west coast to explore the beaches and visit Cobo Tea Room for elevensies! Later, report to Castle Cornet at 14:00 for the Hafenschloss Tour, to explore bunkers, shelters and gun positions and discover how this medieval castle was refortified against sea and air attacks during WW2.

Thursday :

 

 

 

South Coast Cliff Walk and German Occupation Museum  [Forest]

Cliff walk from Le Gouffre to Le Corbiere and back again through country lanes (circular route map available). Enjoy a spectacular cliff-top lunch at Le Gouffre before walking the 10 minutes or so to the German Occupation Museum (behind Forest Church). 4pm on Thursdays will be a talk on 'Guernsey Society Under Occupation'.

Friday :

 

 

Little Chapel and German Underground Hospital  [St Andrews]

Visit the Little Chapel in St Andrews, then walk to the German Underground Hospital, about a mile away.  During April, the Underground Hospital is open between 10-12pm.  From May onwards, it additionally opens between 2-4pm.  The Little Chapel is always open.

Saturday :

 

 

 Sausmarez Manor Farmers' Market  [St Martin]

If you have a little time before departing, the Farmers' Market is a 5 minute walk away from The Ellingham Cottages. 9am - 12:15pm. Or maybe your dates and travel plans allow you one last event, such as the History Festival at Castle Cornet (7th April), or the Mini Food Festival on the town piers (5th May).
The full schedule for the Guernsey Heritage Festival, plus information on tickets and prices  (where applicable) can be found at Visit Guernsey.
To view a suggested itinerary that will appeal to fans of The Guernsey Literary and Potato Peel Pie Society book, click the link.
The Ellingham Cottages is located in the heart of St Martins and has availability in two and three bedroom holiday cottages.