The Islands of Guernsey
Did you know that the Bailiwick of Guernsey is actually a collection of islands, each having a unique character... all with outstanding beauty.  Guernsey is the largest of this archipelago and the ideal location from which to island hop to Lihou, Herm, Sark and Alderney.  Choose Herm for it's tranquility and the beautiful white sands of Shell beach and the sheltered Belvoir Bay.  The island of Sark takes you back in time to when horse and cart ambled through lanes bordered with wild flowers. Or walk across the causeway at low tide to Lihou Island, the largest nature reserve of Guernsey. 
Herm is where the heart is...
Herm is the smallest of the islands of the Bailiwick of Guernsey, at only 1.5 miles long by 0.5 mile. The beauty and tranquility of this unique island captures the heart like no other. The freshness of the air and gentle natural paths with stunning views, together with idyllic beaches make this a day-trip not to be missed.
Beach-lovers are spoiled for choice with no fewer than 6 beaches to explore. The popular Shell Beach is a long stretch of white sand mixed with millions of tiny shells, that wouldn't look out of place in a Caribbean brochure. Explore the (bracing!) water on kayaks and paddleboards. A little further along on the east coast is the more sheltered Belvoir Bay. The west coast beaches which look out over to Guernsey are popular post-lunch when you just want to flop somewhere close to the eateries, or near to the harbour for catching the return boat.
The quaint 'heart of the island' has plenty of places to eat, with The White House and The Ship Inn both popular.  If not snacking from the beach kiosks, our family favourite is The Mermaid Tavern. We eat on the picnic tables in the sun-trap courtyard garden and enjoy the great pub-style food. The ice cream bar with its flavoursome range of rich ice-cream provides the perfect Herm dessert. Visit the Herm Gift shop stocked with gifts, clothing, camping and swim gear – and a captivating range of pocket-money toys.​
Herm is famed for its stunning gardens and natural areas with a wide range of coastal and Mediterranean plants.  Both garden tours and guided walking tours are available (bookable in advance). Please ask Simon or Fiona in the Ellingham office for further information.
Exploring Sark
While Herm is perfect for walkers, Sark is perfect for cyclists (it is possible to hire a bike when you are there). It is larger than Herm, at 3 miles long and 1.5 miles wide and has wider lanes and much to explore. There are no cars in Sark, with bicycles or horse and cart being the main forms of transport. It is truly like stepping back in time into a charming old world.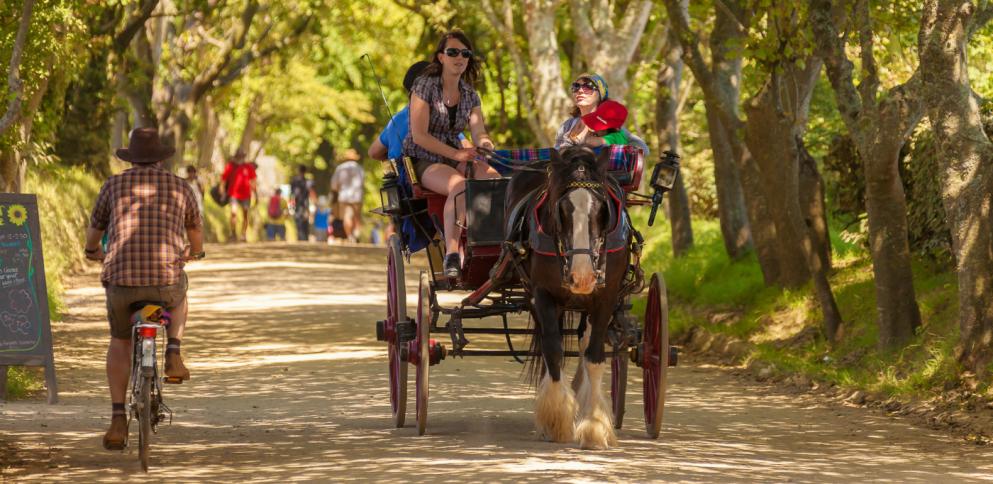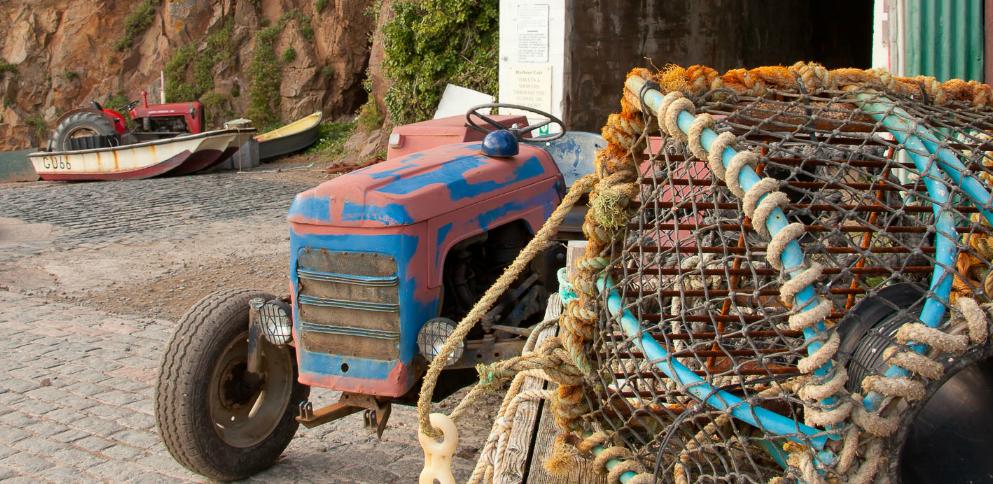 A unique way to explore this island is by horse drawn carriage – there are many around that for a small fee, will allow you to enjoy the beautiful scenery at a relaxing pace. For those of you wishing to take a guided walking tour, you can pre-book a range of walks from wildflowers walks, to garden tours, to rockpool rambles.
The scenic beauty of Sark (and its sister island, Little Sark) is unsurpassed. There are shingle and sandy bays with rock pools protected by rugged coastal cliffs. There are wooded valleys, grassy meadows with Guernsey cows, profusions of wildflowers, also natural rock strata and rock arches that direct your gaze out to the clear blue sea.
There are plenty of place to eat, ranging from tea gardens, cafes, through to fabulous restaurants. As you would expect, fresh sea food is a favourite on the menu, but the range of food is really good. If you think that Guernsey butter, milk and cheese is rich and creamy – wait until you try Sark's!